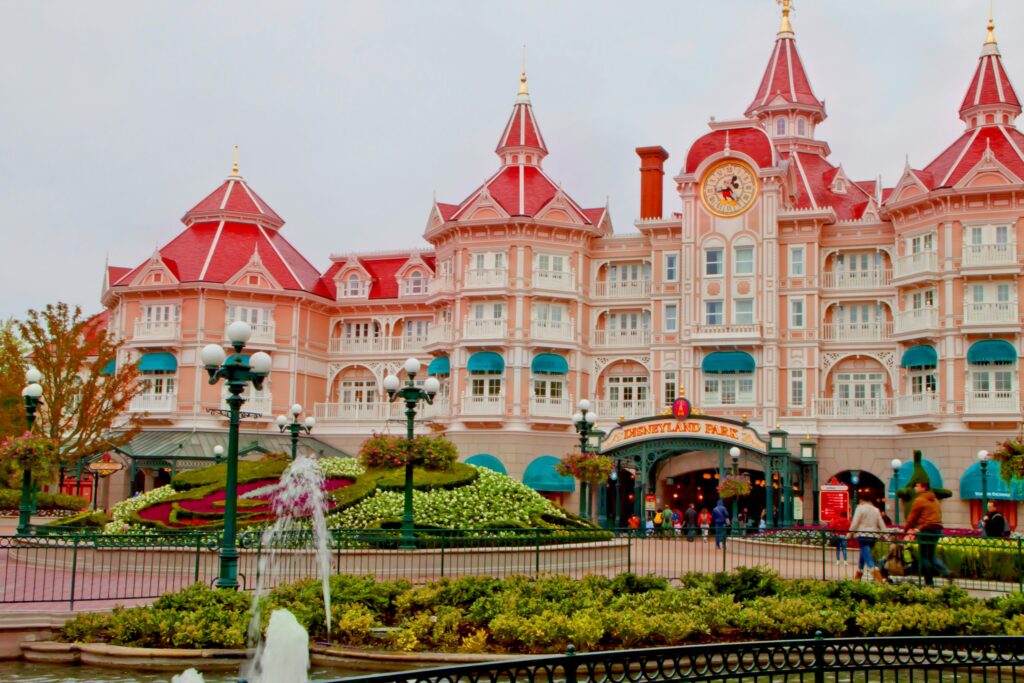 20min by car via the ESBLY village
20min by bus n°19 (Marne et Morin) from Meaux station with 5 min by bus n°05B from the hotel or 15 min on foot.
The last bus is between midnight and 01:00, check the time at the bus station by going to the right platform, plan 30 min to get there from the end of the park. By knowing the right platform, the right time and 30 min, you will avoid paying a taxi to return to the hotel.
We advise you to go there outside school holidays and preferably on a Thursday-Friday or Sunday-Monday. You will do more attractions there because the waiting time will be less.
No need to get up at dawn, look at the opening hours and plan to get there two hours later. Indeed, otherwise, you risk having significant traffic jams. Finally, to access the Disneyland car park toll, the price is 15-20 €.
Once in the magical land, be smart and optimize your time! To do this, we advise you to start your getaway with the Studio park and then, around 4 p.m., go to the Disneyland park, even if you have not finished Studio. Indeed, between 4:00 p.m. and 8:00 p.m. the morning workers begin to vacate the premises; the queues are thus faster. You can also watch the magnificent closing fireworks.
In addition, choose your attractions according to your tastes but also and above all according to the waiting time. Mika is a specialist and can advise you according to your desires and directives.
You can use your entrance ticket to obtain a free fastpass (a pass that allows you to skip part of the queue) (available at the vending machines) as soon as you enter the park. Enjoy! You paid for this service in your ticket. You are entitled to one fastpass per person and per time slot. That is to say that if you have a fastpass scheduled between 1:15 p.m. and 1:45 p.m., you cannot go to another fastpass distributor before 1:45 p.m. and so on…
Regarding meals, the price-quality ratio is excessive for food that is mainly fast food, prefer the take-out basket, our hotel is at:
700 meters from a grocery store in Villenoy
1500 meters from the AUCHAN shopping center "Les Saisons de Meaux"
1800 meters of primeur etc…, from the city center of Meaux
In the same way, when returning to Disneyland, choose the Disney Village restaurants on site. You will also find a McDonald's hidden in the back of the Village in front of Lego. Your STUDIO and DISNEYLAND amusement parks for a year!
Disney communicates very little on the subject before you enter its parks. The most economical trick is to buy a 1 day 2 park entry then go to the annual passport office in the DISNEYLAND park and convert it into a DISCOVERY PASS (it is 139€, but you can deduct the price of your entry ), which is blue in color.
It allows you to come back for one year from the date of obtaining it for free. The only drawback: you only have 150 days of access per year.Note that for shopaholics, you have:
The shopping valley (brands at discounted prices) and the Val d'Europe shopping center 5km from Disney.
Factory center (brands at reduced prices) 35km from the hotel near Paris-Charles-de-Gaulle airport